THE ARK OF TASTE
Cataloguing the endangered traditional foods and produce of Scotland, and drawing attention to the risk that they might disappear within a few generations.
Agricultural biodiversity and small-scale, family-based food production systems are in danger throughout the world due to industrialisation, genetic erosion, changing consumption patterns, climate change, the abandonment of rural areas, migration, and conflict.
The Ark of Taste
invites everybody to take action: in some cases, products need to be rediscovered and put back on the table, and producers need to be supported and to have their stories told; in others, such as the case of endangered wild species, it might be better to eat less or none of them in order to preserve them and favour their reproduction. This catalogue includes fruits, vegetables, animal breeds, cheeses, breads, sweets and cured meats, just to name a few. Full of rich history and traditions, it is essential we preserve them and make these wonderful products available to future generations.
To take a look at the full catalogue, head to the
Slow Food Foundation for Biodiversity
.
The Scottish Ark of Taste

With over 5,000 throughout the World and 185 in the UK, Scotland is home to around 65 unique Ark of Taste products.

From the Highlands to the Lowlands, and all the way to the Outer and Inner Hebrides and the Isles there is a whole spectrum of unique grains, meat, fish, fruits and vegetables from Scotland to be enjoyed.
The Bloody Ploughman apple, the Shetland black potato and the Isle of Colonsay Wild Flower Honey are just a handful of the amazing products included in Scottish Ark of Taste. It's essential we celebrate and support these producers in keeping rare breeds and varieties alive and to ensure ancient and traditional production methods are not lost. We also believe that by shining light on these products and bringing them together we can begin to reconnect people with good food.
The Cooks' Alliance
invites those who share the Slow Food ethos to use seasonal forgotten foods in showing the public how incredibly delicious they are. Becoming the champions of these small-scale producers, cooks and chefs are in a unique position in promoting quality, local and sustainably produced food, keeping them in the spot light for all to see and enjoy.
Explore the map above to learn more about each of the Scottish products and their producers. With the help of Wendy Barrie from the
Scottish Food Guide
and Diana Zilioli of
Stilla
, below, you'll find a small selection from the Scottish Ark, describing in more depth their production method, history and flavour profiles.
OUR LATEST ADDITION
The Orkney Boreray

Hardy island sheep with an intriguing story and a newfound future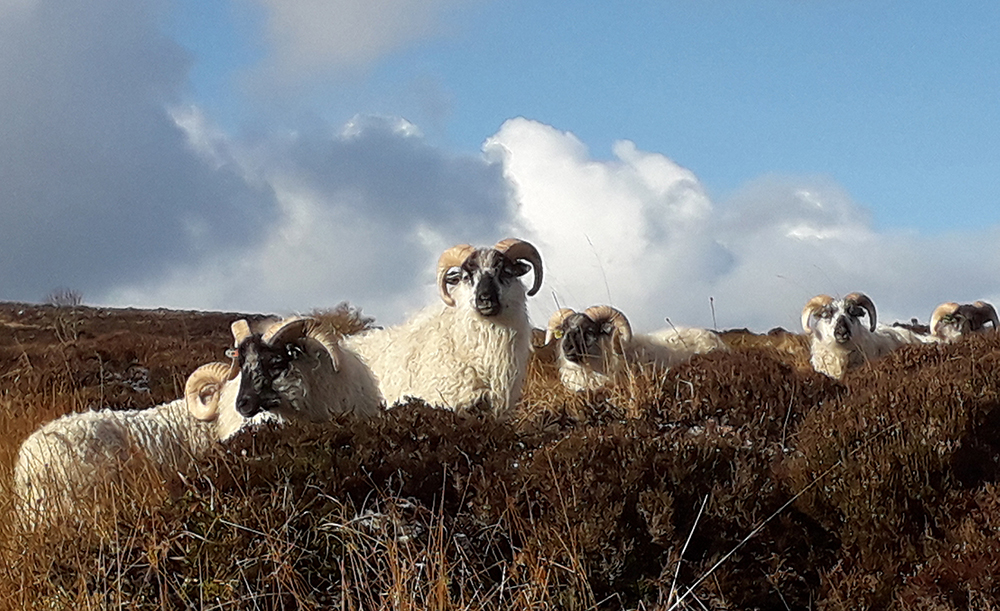 PHOTO COURTESY OF JANE COOPER
Orkney Boreray Sheep are the last DNA link to the now extinct Scottish Dunface or Old Scottish Shortwool as it is also known, with a probable seasoning of Hebridean Blackface in the distant past. Known as the 'Lost Flock,' they were formally identified by RBST in 2017 and placed on a register separate to all other registered Boreray sheep, making them a unique DNA genebank...
The Arran Victory Potato
This unique variety, cultivated on the Isle of Arran—one of the Inner Hebridean isles—was named in celebration of the end of World War I in 1918.
Its defining feature is the deep purple-blue hue of its skin and whiter-than-most flesh within. The spectacular skin colour fades on cooking, however its earthiness and fluffy texture make up for it, lending itself perfectly towards baking, steaming, chipping and roasting.
It is available from a few heritage potato seed growers and grown in kitchen gardens, but not available in shops or supermarkets. Due to its unique characteristics, it is likely to move through ebbs and flows of interest in the mainstream, however the Arran Victory will remain a firm favourite amongst potato enthusiasts.
The Traditional Ayrshire Dunlop

The making of Ayrshire Dunlop cheese dates back to the 1700s when Barbara Gilmour, a farmer's wife started making a cheese using an Irish method at the Hill Farm in Dunlop.
From Ireland, Mrs Gilmour brought back a recipe using whole milk where traditionally skimmed milk would be used for cheesemaking. Creating a highly unique and superior flavour, this transition to whole milk paved the way for both Cheshire and Wensleydale cheese which also use whole milk in their production.
Where Dunlop is now used generically to name similar cheeses, it is well known that Traditional Ayrshire Dunlop is the original. First bred at the Parish in Dunlop, this cheese is uniquely produced from Ayrshire cows milk using the same traditional methods that Mrs Gilmour used around 300 years ago.
This variety is a hard-pressed cheese not unlike cheddar, but slightly more moist. When young, at around 6 months, it is mild with a nutty flavour and smooth, close texture. As it matures, between 12 to 14 months, it develops strength with a slight sharpness.
The Arbroath Smokie

Made by smoking pairs of haddock over hardwood, Arbroath smokie's are traditionally produced in and around the small fishing town of Arbroath, Angus, in East Scotland.
Tied at the tail, dry salted and hot smoked in a 'smokie' pit (made from a whisky barrel set into the ground), the end result is a unique smoky, sweet and slightly salty flavour profile, deeper than other types of smoked haddock.
The origin of this tradition is still debated, though it is said that it might go back as far as the first Vikings' raids in the region during the 11th century. Still, since the life and economy of the town of Auchmithie, near Arbroath, has long revolved around fishing (mostly haddock, herring, crab and lobster), we can say for sure that the tradition is at least two centuries old. There is a legend that tells that the tradition initiated when a cottage caught fire, where some haddock had been hung for drying. They were found in the cottage's ruins, smoked but still edible.
The smokie has Protected Geographical Indication (PGI) status under European law and can only be called an Arbroath smokie if it is produced in the traditional manner and within a 5-mile radius of the town.
Stoneground Orkney Beremeal

Made from Bere, the distinct Northern Scottish six-row local barley, Beremeal flour has been grown and milled in Orkney for over 300 years, and at present is the only variety of its kind on the UK market.

What makes Beremeal unique is its earthy, slightly astringent, nutty flavour, which is traditionally used to make bannock, soft rolls which are a speciality from Orkney, Shetland and the Western Isles. As an unusual form of barley, Bere is tolerant of the cool temperatures and short growing season of Orkney. Beremeal is also highly nutritious. Possessing a wide variety of macro- and micro-nutrients including significant quantities of folate, thiamine, pantothenic acid, iron, iodine and magnesium, it's a delicious alternative in making scones and biscuits.
Built in 1873, Barony Mill is the only mill in the UK that deals with bere, and probably the only one in the World. Like most Northern mills of this period, a kiln for drying the grain is integral with the building. Grinding is done in the winter, and during the summer months, the mill is open to the public to discover the history of this ancient grain and to understand the process of milling.
Beremeal is available online and in stockists throughout Scotland. Visit
their website
to learn more.
The Gannet
(founded by
Cooks' Alliance
member Peter McKenna) are also proudly supplied by Barony Mill.
If you'd like to be involved or would like to add to the Scottish Ark of Taste, please get in touch.
EXPLORE MORE

Learn about how the Ronaldsay Sheep is helping to combat climate change.


An orchard of Scottish heritage apples.